Great news for all Bombshells, Shaw Media announced today that the "Bomb Girls – The Movie" shoot is underway. Let me cite their press release, which has all the pertinent information:
Muse Entertainment and Back Alley Film Productions in association with Shaw Media announced today that production has begun on Bomb Girls -The Movie (working title). The original BOMB GIRLS cast returns reprising their roles with Canadian Screen Award-winning actress Meg Tilly (as Lorna Corbett), Jodi Balfour (as Gladys Witham), Charlotte Hegele (as Kate Andrews), Ali Liebert (as Betty McRae), Antonio Cupo (as Marco Moretti), Anastasia Phillips (as Vera Burr), Michael Seater (as Ivan  Buchinsky), and Peter Outerbridge (as Bob Corbett) reprising their roles. The two-hour film, from Emmy® Award-nominated executive producer Michael Prupas (The Kennedys, Bomb Girls) and Gemini Award-winning executive producers Adrienne Mitchell and Janis Lundman (Bomb Girls, Played, Durham County), is shooting in Toronto and Hamilton until November 20, 2013.

Bomb Girls -The Movie takes viewers back to Spring 1943, as the Battle for the Atlantic rages and an Axis victory seems inevitable. German U-boats patrol the ocean picking off ships, destroying much needed supplies and inflicting heavy casualties. The one hope the Allies have – production of newly developed sonar equipment – is moved to Victory Munitions when the British factories are bombed. Then, in the darkest hour of the war, a new and disturbing menace appears – a saboteur among the factory workers.

Bomb Girl Gladys Witham (Balfour), a fiery young woman from privilege, is covertly recruited by Allied Intelligence to find the traitor on the new line. But she must spy on her best friends, coworkers and fellow agents, calling into question everyone and everything she has come to trust.
Read more on the Shaw Media website.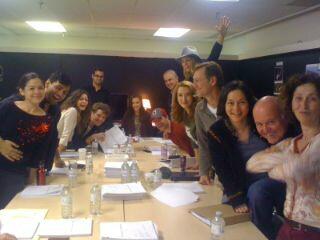 And here's an extra special treat that Adrienne Mitchell tweeted today — the Bomb Girls cast back together at last Thursday's table read. (Thank you, Adrienne!!)