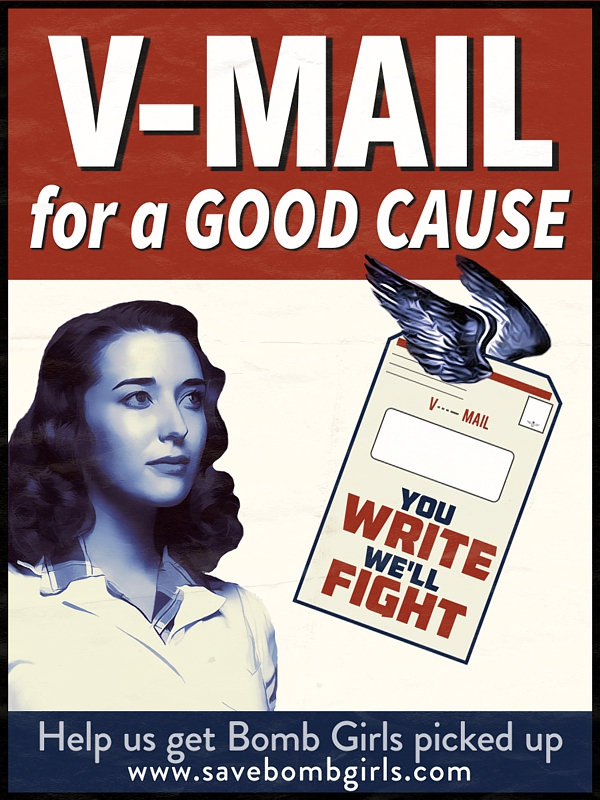 Save Bomb Girls presents… V-MAIL – a huge online collection of comments! V-MAIL, short for Victory Mail, was a method used in WW II for soldier correspondence. Team Save Bomb Girls have taken inspiration from this idea and have gathered as many comments about the show as we could find, combining them all in one place, and thus create a huge online collection! This was aimed at not only showing other networks that picking up the show would be a great investment, but also to represent a prominent ongoing legacy of Bomb Girls.
10,000 comments with the help of people from the homefront!
All the fans had to do was voice their opinion about the show, using several different channels such as:
V-MAIL messages could be anything, from a simple, "Please bring back the show!" to a 10-page essay as to why the show is a rare gem in today's television landscape. The fans wrote it, we collected it, and then made sure it got seen by the execs at CTV, City and Netflix, and Global too because they might be giving us more movies.
Our motto: You write, we'll fight!
If you wish to view the comments we collected over the months, we have split the collection into parts of 1,000 comments each:  part 1 – part 2 – part 3 – part 4 – part 5 – part 6 – part 7 – part 8 – part 9 – part 10 – part 11 – complete file