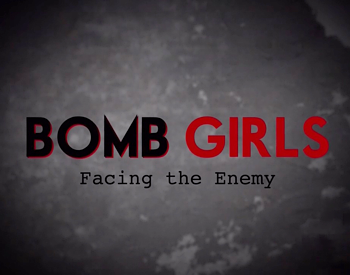 Bomb Girls as a TV show may be cancelled, but Global TV has given the fans a small consolation in the form of a 2-hour Bomb Girls movie. Titled Bomb Girls – Facing The Enemy, the TV movie premiered on Global TV in Canada on March 27, 2014.
Principal photography began in late October 2013 and finished in mid-November. The North Americas already had the chance to watch it (Canada in March 2014 and the US in May). ITV3 has also confirmed having bought the rights, although a UK airdate is currently unknown. There's no word yet on whether or when Netflix will add the movie or whether it will be released on DVD, but there's a good chance both of those will happen.
Story-wise, we jump forward in time to spring 1943, to see what the girls are up to. Without posting too many spoilers, it may be safe to say that movie mainly centers around a spy plot where we follow Gladys' latest mission that also involves the latest and greatest at Victory Munitions. Loose ends are (more or less) wrapped up, and earlier storylines resolved. We are introduced to new characters and have to say goodbye to others. In a sense, Bomb Girls – Facing The Enemy felt like a farewell, but there's room for more. The war, after all, is not quite over.
While it is disheartening that the show remains cancelled despite the fans' vehement protests, there is still reason for triumph. Bomb Girls producer Janis Lundman gave a statement that indicates that the fan response to the cancellation played a significant part in making Bomb Girls: The Movie happen:
"The network knew there was such a huge fan base for the show and they wanted to find a way to continue the story," said Lundman from the set of the project, which has a working title of Bomb Girls: The Movie.
Actors and producers have also hinted at the fact that this movie may not be the end of Bomb Girls. Co-creator Adrienne Mitchell has said she would love to make two or three more movies, but this decision is ultimately Global TV's to make. If you'd like them to produce more Bomb Girls movies, we can only encourage you to tell Global that you're very keen on that idea.
More details on the movie can be found in the press release below that Shaw Media published in October last year:
PRODUCTION BEGINS ON BOMB GIRLS – THE MOVIE

Meg Tilly, Jodi Balfour, Charlotte Hegele, Ali Liebert, Antonio Cupo, Anastasia Phillips, Michael Seater, and Peter Outerbridge Return

Toronto, October 30, 2013 – Muse Entertainment and Back Alley Film Productions in association with Shaw Media announced today that production has begun on Bomb Girls -The Movie (working title).The original BOMB GIRLS cast returns reprising their roles with Canadian Screen Award-winning actress Meg Tilly (as Lorna Corbett), Jodi Balfour (as Gladys Witham), Charlotte Hegele (as Kate Andrews), Ali Liebert (as Betty McRae), Antonio Cupo (as Marco Moretti), Anastasia Phillips (as Vera Burr), Michael Seater (as Ivan  Buchinsky), and Peter Outerbridge (as Bob Corbett) reprising their roles. The two-hour film, from Emmy® Award-nominated executive producer Michael Prupas (The Kennedys, Bomb Girls) and Gemini Award-winning executive producers Adrienne Mitchell and Janis Lundman (Bomb Girls, Played, Durham County), is shooting in Toronto and Hamilton until November 20, 2013.

Bomb Girls -The Movie takes viewers back to Spring 1943, as the Battle for the Atlantic rages and an Axis victory seems inevitable. German U-boats patrol the ocean picking off ships, destroying much needed supplies and inflicting heavy casualties. The one hope the Allies have – production of newly developed sonar equipment – is moved to Victory Munitions when the British factories are bombed. Then, in the darkest hour of the war, a new and disturbing menace appears – a saboteur among the factory workers.

Bomb Girl Gladys Witham (Balfour), a fiery young woman from privilege, is covertly recruited by Allied Intelligence to find the traitor on the new line. But she must spy on her best friends, coworkers and fellow agents, calling into question everyone and everything she has come to trust.

"The original cast is excited to be reunited and continue this amazing story of the bomb girls and their fierce commitment to the war effort and each other," says executive producer Adrienne Mitchell.

"Although set in the 1940s, this portrait of ultimate grace under extraordinary pressure resonates today," notes executive producer Janis Lundman.

source: shawmedia.ca